Homemade Manicotti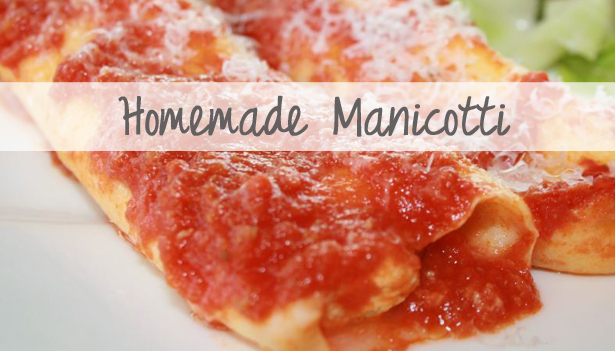 I mentioned I was thinking about making manicotti for Easter this year and received a resounding YES!  I hadn't made them in a long time and I was looking for a light pasta type dish to add as an entree.  Well, these "melt in your mouth manicotti" did not disappoint.  Everyone enjoyed them and I was happy to make them again just this weekend for yet another family dinner.
This recipe uses fresh crepes, click here for my crepe recipe.  Please don't think making fresh crepes is difficult or too much work because it really isn't bad.  It takes about 5 minutes to mix the ingredients and 20 minutes to cook and flip the crepes.  If you have never made fresh crepes before, trust me – you HAVE TO TRY IT!! =)
Please let me know if you enjoy these…
Buon appetito!
Nicole
These are the products I used for this recipe. These are affiliate links, but I only display what I actually use and recommend.
Homemade Manicotti
Prep time:
Cook time:
Total time:
Ingredients
4 lbs. Ricotta
1 lb. shredded mozzarella
3 eggs
2 Tablespoons fresh parsley (chopped) or dried
1 cup grated parmigiana cheese
4 cups cooked marinara sauce
Instructions
In a large mixing bowl (very large) beat the eggs.
Add the remaining ingredients and mix everything together.
Cover the bottom of several baking trays with the marinara sauce.
Put a large spoonful of the cheese mixture on the center of each crepe.
Fold the sides in and place face down on the trays, lining the manicotti right up next to each other.
Repeat this process until you have filled all of the crepes and then spread a light layer of sauce on top.
Sprinkle with some extra parmigiana cheese.
Bake at 350 degrees for 30-40 minutes, uncovered.
Serve with additional sauce and parmigiana cheese.