Crepes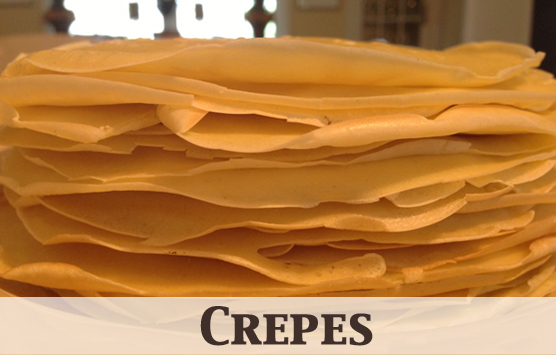 One of my absolute favorite treats is fresh crepes.  Making crepes brings back a ton of memories of helping my mom make them for Christmas dinner.  She probably had me make hundreds of them on her little crepe machine since back then we had so many people for every holiday.  I never asked her why she only used them to make her homemade manicotti, never for any desserts.
As I grew up my love of crepes never wavered.  Every time I see a crepe cafe I NEED to sample the goods!!  Some of my favorite crepe cafes are Meli Melo on Greenwich Avenue in Greenwich, CT and La Bonne Crepe on Las Olas Blvd in Ft. Lauderdale, FL.  But it is in Italy where I enjoy my favorite crepes, Nutella crepes!
Enjoy making these crepes for appetizers, entrees or desserts and if possible lure in your children for help!  I used a small frying pan to make the crepes in this recipe.  I am including my first video to demonstrate the swirling process you will do when using a frying pan (excuse the amateur footage, I used my left hand =).  If you are comfortable with using a frying pan, go for it!  If not, the crepe machine below is a fun way for the kiddies to help.
Wishing you ladles and ladles of delicious crepes!
Nicole
These are the products I used for this recipe. These are affiliate links, but I only display what I actually use and recommend.
Crepes
Recipe type:
Appetizer/Entree/Dessert
Prep time:
Cook time:
Total time:
Ingredients
6 eggs
1 cup water
1 cup milk
2 cups flour
pinch of salt
Instructions
Beat the eggs until they are fluffy with an electric mixer (they will lighten in color).
Slowly mix in the water and milk in the mixer.
Sift the flour and salt together and add to the mixture.
Let the batter sit for 10-15 minutes.
Heat the crepe maker OR a small frying pan to medium heat and lightly oil it.
Add 1 oz of batter at a time to the frying pan and using a circular motion, swirl the batter around the pan until it has covered the bottom of the pan.
Let the crepe cook for approximately 15 seconds, until the edges separate from the pan.
Turn over and repeat on the other side.
Crepes should be a light color, not browned.
Notes
If you use a crepe machine, dip the machine in the batter and quickly turn it over. When the light shows it is ready, use a spatula to flip and cook the second side.