Neopolitan Eggplant Parmigiana
Today I was given a few eggplants from a friend's garden… yum! I was so excited to use them to make my favorite eggplant recipe, Neopolitan Eggplant Parmigiana. I first discovered this recipe in a cookbook from Bibba Caggiano. The difference of this eggplant is that you are not going to be breading each piece of eggplant, only flouring. It makes a huge difference in taste! I have altered her recipe from time to time, depending on which kind of eggplants I have (today was graffiti), type of tomatoes I'm using and if I'm adding fresh mozzarella versus store bought shredded.
What's great about this recipe is that although overall it takes about an hour and a half, 30 minutes of that time you are just waiting for the eggplant to "sweat" out the bitterness and 30 minutes it is baking in the oven. So, really… you are prepping for 30 minutes! I also love that the sauce takes less than ten minutes to cook and how fresh it tastes. I remember the first time I made it and thinking that it tastes like eating cake, or a dessert! I knew I'd be making this recipe for years to come. My father, who is from an island near Naples tasted this eggplant and commented that it tastes like how his mother made it.
This recipe never fails but works best with the small, Italian eggplants, plum tomatoes (seeds/cores removed) and fresh mozzarella.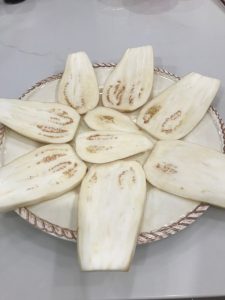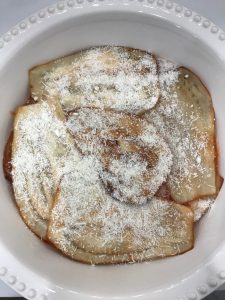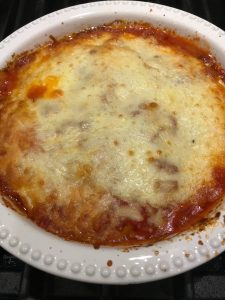 Buon appetito!
Nicole xo
These are the products I used for this recipe. These are affiliate links, but I only display what I actually use and recommend.
1. Cuisinart CTG-00-CBC Cutting Board with Colander
2. Cuisinart C55-12PCKSAM 12-Piece Ceramic Coated Stainless Steel Knives (I used the purple one)

Neopolitan Eggplant Parmigiana
Author:
Bibba Caggiano, updated by Ladles of Yum
Prep time:
Cook time:
Total time:
Ingredients
4 small Italian eggplants (or seedless eggplant)
3 tablespoons olive oil
1 inch of vegetable oil for frying
2 cups of flour
1 28 oz. can plum tomatoes, passed through a mill to remove seeds
½ cup of fresh mozzarella (or shredded)
1 cup of grated parimigiana cheese
2 cloves of garlic
salt
Instructions
Slice the eggplant ¼ inch thick, length wise
Place the eggplant on a dish and lightly salt them to remove the bitterness. Let them sit for 30 minutes and then pat them dry with a paper towel.
Lightly flour both sides of the eggplant and then fry them on medium heat in vegetable oil until lightly golden, approximately 2 minutes on each side.
Remove the eggplant from the oil and place on a dish with paper towel to absorb excess oil.
Continue to fry all of the eggplant.
In a small pot, place 3 table spoons of olive oil on medium heat.
Add two whole pieces of garlic.
Lightly brown the garlic and then remove from the oil.
Add the passed tomatoes and a little salt, bring to a boil.
Once boiling, lower to a simmer for 8 minutes.
In a 9X13" dish, place some of the sauce on the bottom of the dish and then layer the eggplant, overlapping slightly.
Sprinkle parmigiana cheese on top of the eggplant.
Then add a layer of sauce.
Add another layer of eggplant and continue to do this until you run out of eggplant.
Add one more layer of sauce and then sprinkle the mozzarella cheese on top.
Bake in the oven at 350 degrees until golden, approximately 35 minutes.