Zucchini Muffins
I love Saturdays for many reasons but mostly because the local farmer's market in town offers up some fantastic fruits and vegetables.  On a recent trip, I think I slightly overdid it at the zucchini table.  My infant daughter had just been given the green light from her pediatrician to start fruits and veggies and I was raring to go.  However, when I got home I realized that I probably had enough zucchini to feed her until she is ten!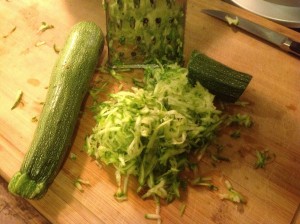 As I pulled out the shredder and started shredding away, I began thinking of all my favorite zucchini recipes: zucchini chips(recipe here), zucchini frittata (coming soon), zucchini fritters (have to get that recipe from my mom!!)… well, you get the idea.
While I was doing this I was munching on a banana muffin, and then it hit me, why not sneak these shredded zucchini into my weekly batch of morning muffins?  Just about every Sunday morning I bake two dozen muffins to get us all through the week.  I try to vary it as often as possible but I definitely favor banana muffins due to the fact that there are always three mushy bananas in our house that I can use.  But I hadn't yet made zucchini muffins!
I won't say that the recipe that follows is a final draft but it is one that I am pleased enough with to post.  After I try a few more variations, I'll edit it if I think it can be improved.  Also, please comment if you have any suggestions for alterations.  These muffins are very moist, not too sweet and while you can taste the zucchini, it isn't overwhelming.  I hope you enjoy them as much as we do.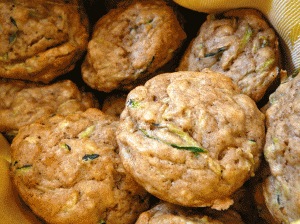 Now go make some zucchini muffins!
xoxo
Nicole

Zucchini Muffins
Prep time:
Cook time:
Total time:
Ingredients
3 cups flour
2 cups white sugar
1 cup vegetable oil
3 eggs
1 stick butter (melted)
3 tsp vanilla extract
3 tsp ground cinnamon
1 tsp baking powder
1 tsp baking soda
1 tsp salt
3-4 cups grated zucchini
1-2 cups chopped walnuts (optional)
Instructions
Sift the flour, baking powder, baking soda, salt and cinnamon into a large bowl.
Beat the eggs, sugar, vanilla, melted butter and oil together in another bowl.
Add the sifted ingredients to the creamed mixture, and beat well.
Stir in the grated zucchini and add the walnuts until well combined.
Pour batter into prepared muffin pan.
Bake for 25 minutes at 350 degrees.
Remove from pan and completely cool.
Notes
If you want to omit the butter, make sure you use at least 4 cups of zucchini or else the muffins will be dry.