Chicken "Heart" Pie
I was looking for a birthday gift for a friend on Amazon.com and came across these adorable heart shaped ramekin.  I was thinking about how I can use them for a Valentine's Day dish and I came up with the idea for Chicken Heart Pie.  Not too romantic you might say, but in our house we LOVE LOVE LOVE chicken pot pie and that is probably the best way I can show my family a little V Day love!  My biggest fan of my chicken pot pie is in Europe for a few months so I will just have to make her some of these when she returns =)
By the way, I have tried MANY different variations of chicken pot pie.  I used to make the Bisquick version but I'm not too keen on using condensed cream of anything so then I tried to make my own version of condense cream of chicken soup and while that was fine, it wasn't as tasty.  Then one day I was out of Bisquick and figured how different could Aunt Jemima be to substitute, and believe it or not it is very different.  Aunt Jemima made the crust taste like having a fresh biscuit as opposed to the Bisquick version, which tastes more like a pie crust.  THEN, on another day, I had some phyllo dough that I wanted to use and found a recipe that incorporated phyllo dough and they didn't use the condensed cream of chicken soup and so I gave that a whirl and now I have come to the realization that it's all good.  In the end, it's yet another great way to use my leftover roasted chicken.
Enjoy your chicken heart pie and happy Valentine's Day!
XOXO Nicole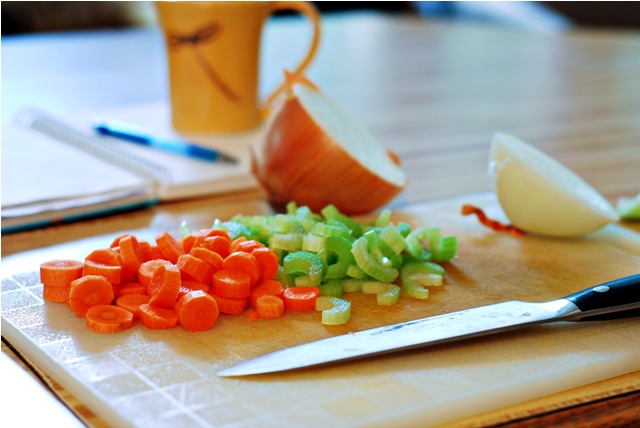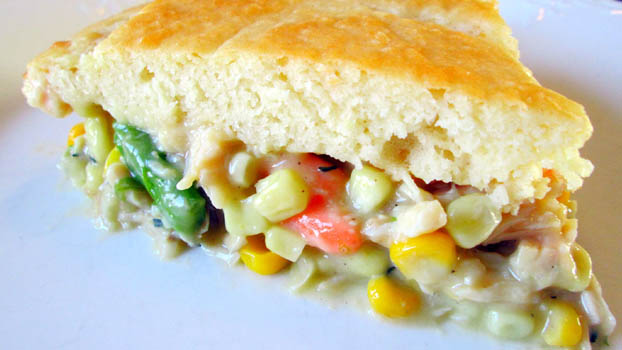 Chicken "Heart" Pie
Prep time:
Cook time:
Total time:
Ingredients
FILLING:
2 cups cooked chicken, cubed (see perfect roast chicken recipe)
3 cups chicken broth
1 cup carrot, diced
½ cup celery, diced
1 cup cubed potato
¼ cup chopped onion
½ cup frozen peas, thawed
½ cup frozen corn kernels, thawed
½ teaspoon salt
½ teaspoon pepper
¼ cup flour
1 cup milk
CRUST:
1 egg
1 cup Aunt Jemima buttermilk pancake mix (or Bisquick)
½ cup milk
* See Notes for phyllo dough alternative
Instructions
FOR THE FILLING:
Place carrots, celery, potatoes and onions into the chicken broth and cook over med-high until tender (about 10 minutes).
Add the peas, corn, diced chicken, salt and pepper to the pot and simmer over med-low heat for a five minutes.
Whisk milk and flour together and then add it to the above mixture and simmer until thickened, approximately five minutes.
Depending on whether you are using pancake mix or phyllo dough, adjust recipe accordingly at this point.
For pancake mix version:
Pour above mixture into ungreased ramekins (or one 9" ungreased pie plate) until they approximately ¾ of the way full.
Mix together the egg, pancake mix and milk and pour it over the filling in each ramekin (or over the whole pie plate).
Bake at 350 degrees for 30 minutes, until lightly browned.
Notes
The phyllo dough version is easy, just allow the phyllo dough to thaw in your refrigerator overnight and bring it to room temperature before using it. Cut the phyllo dough to the size ramekins you are using, leaving enough to fold over the top after the mixture is added. Melt ¼ cup of butter and line each ramekin (or 9" pie plate) with 5 or 6 sheets, buttering the sheets as you layer them. Then pour the chicken mixture in and fold the phyllo sides up and over, brushing with the remaining butter. This is a great option if you prefer your pot pie to be a bit crunchy but it is MUCH FASTER to use the pie plate if you choose this option.