Perfect Roast Chicken
Posted On June 16, 2013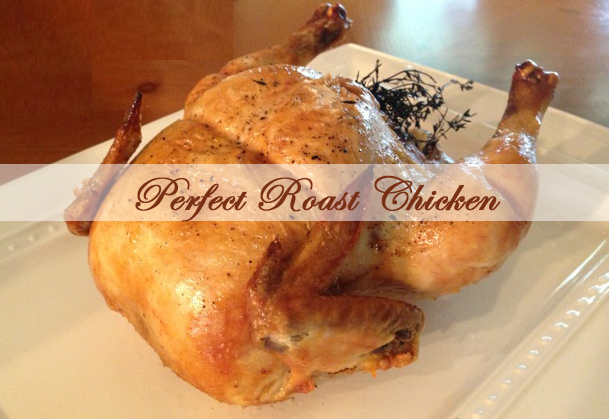 Recently roasting a chicken has become a Sunday night ritual.  I love a great roasted chicken because the possibilities are endless.  Besides serving it as dinner that night, I have so many options for the leftovers!  I try to keep the leftovers interesting, rotating each week from chicken sandwiches for lunches or chicken pot pie as another evening's dinner.
Interestingly, chicken is one of those foods which people like eating but don't like to touch it, clean it or prepare it when it is raw… they just want to eat it!  Also, with busy work schedules, it is obviously much easier to just buy a rotisserie chicken at that grocery store.  However, I am one of those people who likes to see the quality of the chicken when it's raw, only buys organic chicken and I want to decide how much salt, pepper and additional ingredients get stuffed in or poured over my chicken!  Plus, it really only takes 10 minutes to clean and prepare a chicken for roasting.  Waiting to devour it while it cooks is where all the time is spent!
If you've never roasted a whole chicken before, try this recipe.  If you've roasted a chicken and it didn't come out the way you hoped, try this recipe.  I hope you find it as easy and delicious as I do!
Yum, yum, yum!!
Nicole

Perfect Roasted Chicken
Prep time:
Cook time:
Total time:
Ingredients
1 organic, whole chicken (5 to 6 lbs.)
Kosher salt
Freshly ground black pepper
1 lemon, halved
1 head garlic, cut in half crosswise
2 tablespoons (1/4 stick) butter, melted
1 bunch of thyme (if you like thyme)
Olive oil
2 cups chicken broth (just enough to cover the roasting pan and baste the chicken)
Instructions
Preheat the oven to 425 degrees F.
Remove the chicken giblets and rinse the chicken inside and out under cold water.
Remove the excess fat with a chicken scissor.
Pat the outside dry.
Liberally salt and pepper the inside of the chicken.
Stuff the chicken with both halves of lemon, all the garlic and the thyme (if using).
Brush the outside of the chicken with the melted butter and lightly sprinkle with salt and pepper.
Brush the roasting pan rack with olive oil and place the chicken on it.
Pour the chicken broth in the bottom of the roasting pan.
Roast the chicken for 45 minutes, basting as necessary (think browned not burned).
Turn the chicken over and roast for the remaining 45 minutes or until the juices run clear when you cut between a leg and thigh.
Slice the chicken onto a platter and serve immediately.
Notes
If you don't want to use butter, substitute it with olive oil.