Asian Spinach Salad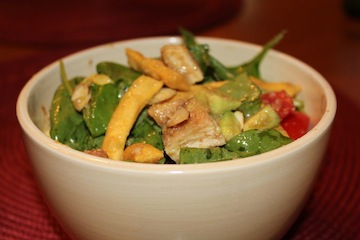 Ok, so you know how great it is when you take a bite of an amazing Asian salad, where the dressing is just right and you wipe the dish clean… yeah, well so do I!  I love a delicious salad and nothing bothers me more than going out to eat and being disappointed that the restaurant got it wrong, one way or another.
This brings me to this recipe.  I have to say this recipe started out as spinach, avocado and orange but I quickly decided it needed much more color, lots more flavor and a whole lot of yum!
I then figured, why stop there!  Why not shred some of my leftover roasted chicken (http://www.ladlesofyum.com/2013/06/perfect-roasted-chicken/) or dice some baked chicken cutlets and yum… dinner is served!
I hope you enjoy it.  I wish you a very happy new year and, as always, ladles and ladles of yum!
xo Nicole

Asian Spinach Salad
Ingredients
4 cups Baby Spinach (washed)
1 cup asian noodles
½ cup craisins
2 avocados diced
¼ cup honey roasted peanuts or plain peanuts
1 mango diced
2 cups shredded roasted chicken or baked chicken cutlets (optional)
Asian Ginger Dressing (recipe in notes)
Instructions
Wash and dry the spinach, remove the stems and add to salad bowl.
Add the noodles, craisins, peanuts, mango and chicken (if using) to the bowl and combine.
Add the avocado and dressing and carefully toss.
Serve and enjoy!
Notes
Asian Ginger Dressing: 3 cloves garlic, minced 2 tablespoons minced fresh ginger root ¾ cup sesame oil ⅓ cup seasoned rice vinegar ½ cup soy sauce 3 tablespoons honey ¼ cup water Whisk the ingredients together and serve immediately. Store covered in the refrigerator.