Stuffed French Toast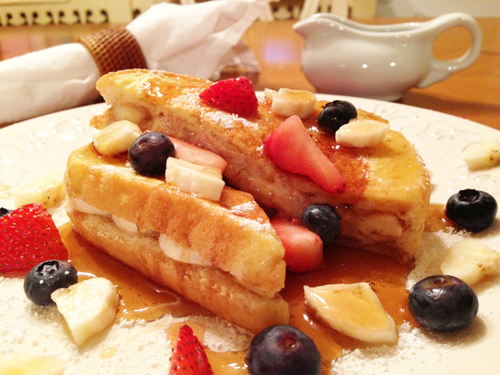 Stuffed French Toast.  I had never heard of it when my husband (then boyfriend) asked for it as his birthday breakfast.  I had eaten plenty of French toast in my life but stuffed, never.  So, I set out to Google recipes for stuffed French toast.  I found so many different variations and being that I wanted to incorporate some fruits I knew I had and ones we both liked, I settled on using strawberries, blueberries and bananas.  I liked the idea of warmed maple syrup and a bit of confectioners sugar…
I can still remember putting the plate down in front of him, not knowing if I had made anything that resembled what he was anticipating, but he LOVED IT!  He ate TWO of these "sandwiches" which, trust me, is very filling.  It has become my go-to recipe for almost every holiday now and since the three fruits I choose to use are red, white and blue, I think it is perfect to serve for a 4th of July breakfast as well!
If you have kids and think they may not enjoy this recipe, just know I've taught many a cooking class to kids and summer camps where they've helped prep the ingredients and make the French toast and they have all loved it.  I've never had a complaint.  I did have one boy ask if he could use Cool Whip instead of the cream cheese filling and I thought that was a great substitute for anyone who isn't a fan of cream cheese – even that was delicious!
Happy 4th of July everyone and I hope you enjoy making your patriotic breakfast for those you love =)
Nicole
This is how I decorate the inside layer to look like an American flag!
Stuffed French Toast
Prep time:
Cook time:
Total time:
Ingredients
1 8 oz. package cream cheese, softened
½ cup powdered sugar
1 Tablespoon vanilla extract
½ teaspoon cinnamon
8 slices bread, white or whole wheat
3 cups sliced strawberries, blueberries and bananas
3 eggs, beaten
2 Tablespoons milk
2 Tablespoons powdered sugar, sifted
1 Tablespoon butter (for skillet)
Instructions
In a small bowl, combine the cream cheese, ½ cup powdered sugar, vanilla extract and cinnamon; mix until smooth.
Spread one side of each slice of bread evenly with the cream cheese mixture.
On the cream cheese side of four slices of bread, layer with the fruit.
Top each slice with a remaining slice of bread, pressing the cream cheese side down onto the strawberries.
Press together gently to seal fruit inside the sandwich.
In a shallow bowl, beat the eggs and milk with a fork.
Dip sandwiches into the egg mixture, turning to soak each side.
Place soaked sandwich on the hot, buttered skillet and cook on each side until browned.
Remove sandwich from skillet and cut each sandwich diagonally.
Top them with remain fruit and sprinkle with 2 Tablespoons sifted powdered sugar.
Serve with warm maple syrup.