Italian Easter Bread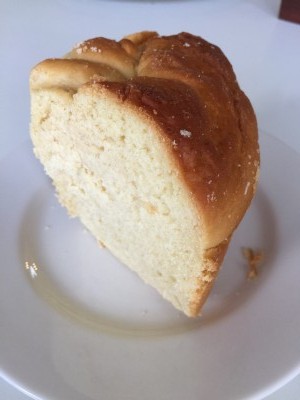 Growing up in our house, Easter was always something we looked forward to, but NOT because of the Easter bunny. We knew that my mom was going to be baking Italian Easter bread, also known as Casatiello. We didn't just look forward to this event, we craved it and so did all of our friends. Everyone knew when the casatiello was baking in the oven because the aroma was simply amazing.
All these years later, everyone still smiles when they hear me say that I'm having a piece of casatiello with my coffee. Lucky for me, my mom has more time on her hands and since my own children love it so much, she is happy to bake it more than once per year.
The recipe below makes three casatiello and trust me on this, you'll want three of them. The good news is that they can also be frozen… but I will guarantee you won't have to!
So, enjoy your Easter and have fun baking some casatiello =)
Italian Easter Bread
Prep time:
Cook time:
Total time:
An Easter holiday favorite!
Ingredients
15 eggs
2½ cups sugar
4 shot glasses of Anisette
2 bags of years (fast acting) dissolved in 2 cups of warm (not hot) water
¾ lb. Crisco (1 and a half sticks of Crisco)
Flour - as much as needed (explained later)
Pinch of salt
1 Lemon rind (optional but it does taste better with it)
Instructions
In a large pot, mix the eggs and sugar well using a hand mixer.
Add all of the remaining ingredients to the batter.
Gradually add flour, one cup at a time, and when your mixer won't mix anymore, pour the newly formed dough onto a floured mixing board.
Continue to add flour and knead the dough. The dough should be a little sticky (but just a little).
Divide the dough into 9 even sized pieces and then roll them to 1½" thickness. You may have to dust them with flour in order to roll them.
Then, using three pieces at a time, braid the dough and place each braid into a round 10" greased pan (or a tube pan if you like the hole in the middle).
Repeat this step two more times with the remaining 6 pieces of dough.
Cover each pan with dish cloths and put them in a warm place with a cover on them for approximately 3 hours to let them rise.
When you see they have risen, preheat the oven 325 degrees and bake them until they are golden brown.
If they are browning too quickly, cover them with aluminum foil for the remainder of the cooking time.