Blueberry Hand Pies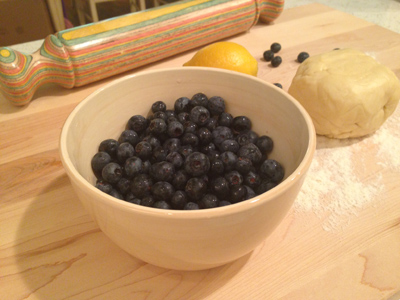 I was flipping the pages of July's Bon Appetit magazine, when I came across this interesting looking recipe for Blueberry Hand Pies.  Just yesterday I bought a large container of organic blueberries and so I figured this would be a perfect way to use 2 cups worth and try out a new recipe.  I was also given a new Cuisinart food processor from my mom and was itching to use it =)  Making the pie crust in the food processor was amazingly easy and if you don't have one, I highly recommend getting one.  My tiny processor has been great, but I am so excited to not have to always split what I am processing into two and three batches!
Well, the recipe did not disappoint and within 30 minutes of them being placed on the cooling rack, there was only 1 pie left on the dish out of 6!
When placing the blueberries on the dough,
make sure you leave enough room to press the edges to seal.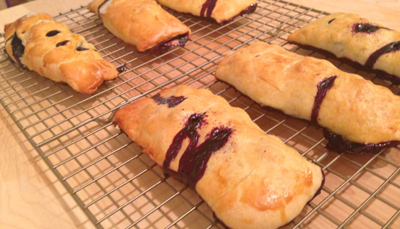 This is what my pies looked like after 40 minutes.
If you like them a bit crispier,  let them bake five more minutes.
At around 10am this morning, everyone in the house let out a, "Yum!"
I'm sure you'll get the same reaction =)
xoxo Nicole

Blueberry Hand Pies
Prep time:
Cook time:
Total time:
Ingredients
2 cups blueberries
1 tsp. finely grated lemon zest
1 Tbsp. fresh lemon juice
¼ cup sugar
¼ tsp. kosher salt
1 Tbsp. raw sugar
¼ cup milk
Instructions
Preheat oven to 375 degrees.
Roll out the pie crust (see notes below) on a floured surface to a 15X12 rectangle and then cut into 6 rectangles.
Toss the blueberries, lemon zest, lemon juice, sugar and salt in a medium bowl.
Brush the edges of the rectangles with water and then mound some blueberries in the center of each.
Fold the dough over and press the edges to seal.
Place on a parchment-lined baking sheet, brush with the milk and sprinkle with the raw sugar.
Cut three slits on the tops.
Bake the hand pies, rotating the sheet halfway through until juices are bubbling and pastry is golden brown (40-45 minutes). The juices from the blueberries will run onto the parchment.
Transfer the pies to a wire rack to cool.
Serve warm.
Notes
Buttery Pie Crust 1½ cups all-purpose flour ½ tsp. sugar ¼ tsp. kosher salt ½ cup (1 stick) chilled unsalted butter, cut into ½" pieces Pulse the flour, sugar and salt in a food processor. Add the butter; pulse until the texture is of very coarse meal. Add ¼ cup ice water; pulse until dough comes together in clumps. Form into a square and then wrap in plastic wrap. Chill until firm about 2 hours. Crust can be made 3 days ahead. Keep it chilled and let it stand at room temperature for 15 minutes before rolling it out.
If you need a food processor or cooling racks, check out my online store to locate great ones!