Carrot Cake Muffins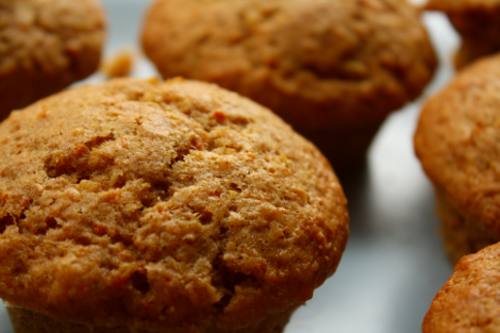 Carrot cake happens to be one of my family's favorite desserts.  When I made one recently for Easter, I starting thinking about how most people probably don't make it because they think it is time consuming or just too difficult to make.  I think most people are reluctant to attempt cakes that are multilayer and need to be frosted for just those reasons.
It got me thinking, why not save a few steps and just make carrot cake muffins instead?  Actually, I realized I could make muffins or cupcakes (by just adding the cream cheese frosting).  I think that is the only difference between making muffins and cupcakes, right?  Either way, it seemed less daunting to make the batter and bake them in muffin pans and so I set out to give it a try.
I had no idea how they were going to turn out but I am happy to report they were absolutely yummy!  I have made them three times since then and they are impossible to keep in the house.  I think I like them as muffins the best because you get the delicious taste and save the calories from the frosting.  However, if you are a cream cheese frosting fan, definitely go for it!
Wishing you a yummy smelling kitchen and delicious muffins!
Nicole

Carrot Cake Muffins
Prep time:
Cook time:
Total time:
Ingredients
2 cups flour
1½ teaspoon baking soda
1 teaspoon ground cinnamon
½ teaspoon salt
4 eggs
2 cups sugar
1 teaspoon pure vanilla extract
1 cup canola oil
2 cups peeled and grated carrots (about 6 medium sized)
1 cup pureed fresh pineapple (well drained)
1 cup finely chopped walnuts (optional)
2 Tablespoons butter for greasing pans
Instructions
Preheat the oven to 350F.
In a large bowl, sift together the flour, baking soda, cinnamon and salt.
Using an electric mixer on medium-high, combine the eggs and sugar. Beat the eggs long enough so that they mixture thickens and lightens slightly in color (about 2 minutes).
Reduce the mixer speed and add the vanilla.
Slowly pour in the oil, and mix it only until it is blended (about 1 minute).
Carefully add the flour mixture and mix only until blended (don't over mix it).
Add the carrots, pineapple and walnuts to the mixture and mix on a slow speed for 1 minute.
Grease the muffin pans with the butter.
Pour the batter evenly among the prepared muffin pans, filling them ¾ of the way full.
The muffins are completely cooked when you can insert a toothpick into the center and it comes out clean.
Notes
Make sure you actually grate the carrots by hand because they will be too watery if you use a food processor. This takes a few minutes but it is worth it - just watch your knuckles! I use my tabletop Cuisinart mixer and grate the carrots while the machine does all the work. If you want to turn these muffins into cupcakes just add the following cream cheese frosting: In a large bowl combine ½ lb of room temperature cream cheese, ½ cup of room temperature butter and 2 teaspoons of pure vanilla extract with an electric mixture on medium until it is smooth and creamy. Reduce the speed to low and mix in 4 cups of powdered sugar until smooth and thick. Frost away and enjoy!