Turkey Chili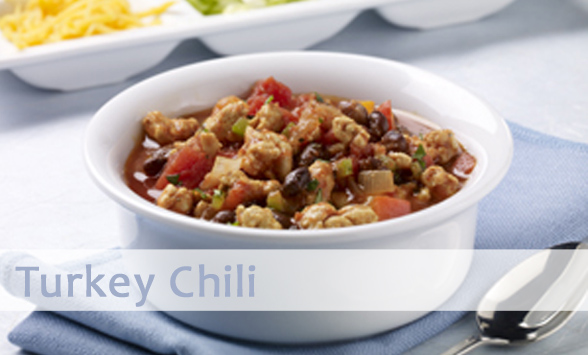 For all of the chili connoisseurs out there, this recipe is a definite try!  It actually originated from a book I bought my sister when she was getting married, called Ahhh! My Apartment has a Kitchen! At the time she wasn't too interested in cooking so I found this easy cooking and baking book for her to whip up some yummy dishes.  She just recently showed me that she still has the book and from it we have both enjoyed many of the recipes.  When she invited me over for this chili dinner, she served the chili with yellow rice and it was perfect.
This recipe is a favorite in our house for a rainy, "chili" night =) I've adjusted the original recipe by making a healthier, spicier version with a few additions of my favorite ingredients.  I hope you enjoy it and if you have any suggestions for improvement, I'd love to hear from you!  I always love trying new versions of chili.
Turkey Chili
Prep time:
Cook time:
Total time:
Ingredients
1.5 - 2 lbs lean turkey meat
1 lg onion, chopped
2-4 cloves garlic, minced (depending how much you love garlic)
1 28 0z. can diced tomatoes
2 tsp chili powder (add more if you want it hotter!)
½ tsp curry powder
2 tsp ground cumin
1 tsp cayenne pepper (again, more for more heat)
2 tsp salt
2 19 oz. cans red kidney beans, drained & rinsed
1 can corn (optional)
1 bag Kraft Mexican Four Cheeses (optional)
1 bag Vigo Saffron Yellow Rice (optional)
1 bag Tostitos Whole Grain Scoops (optional)
Instructions
In a large skillet, cook the turkey meat with the onion until the meat is not longer pink.
Add the garlic and cook for 1 minute.
Add the tomatoes and all the seasonings, simmer 30 minutes.
Add the beans and corn, cook for another 15 minutes.
Serve with yellow rice and sprinkle with shredded cheese.
Notes
The first time you make it, go easy with the spices until you find the right "heat" that is tasty for your family. The yellow rice is great and takes about 25 minutes start to finish so as soon as you get your ingredients cooking for your chili, start boiling your water for your rice. I tend to substitute one of the cans of red kidney beans for a can of Cannellini beans or black beans. They all taste great! I really like to use the Tostitos scoops because the chili sits right in them like a little cup =)