Coconut Macaroons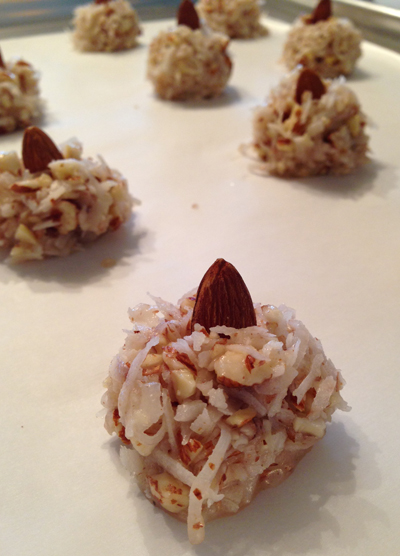 Coconut macaroons are a favorite in our household, actually anything that has coconut in it.  I made these as an Easter treat for my husband because he had given up dessert for Lent and these are truly his favorite.  It also helped to have my official taste tester available for service! He was such a great taste tester, I ended up having to make 6 dozen cookies for my cookie monster =)
The cookies set up nicely on the tray (see above) but if they are at all watery just refrigerate the batter for about ten minutes.  This is a simple recipe, very few ingredients and absolutely yummy!  Be prepared, they won't be in your house for very long!
xo, Nicole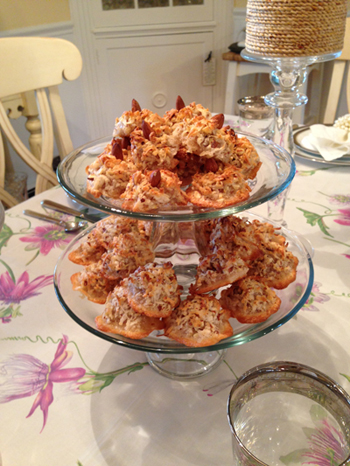 Coconut-Almond Macaroons
Prep time:
Cook time:
Total time:
Ingredients
1 cup sugar
3 large egg whites
3 cups shredded coconut (unsweetened)
¾ cup whole almonds, chopped
1½ teaspoons pure vanilla extract
Instructions
Preheat the oven to 350 degrees.
Line two baking trays with parchment paper.
In a large bowl, whisk together the sugar and egg whites.
Stir in the remaining ingredients.
Using a table spoon, scoop the dough into 2 tablespoon mounds in your hands and drop each onto the baking trays 2 inches apart.
Bake the macaroons until golden-brown on bottom and edges, about 15 minutes.
Remove trays from oven and let cool on wire racks.