Minestrone Soup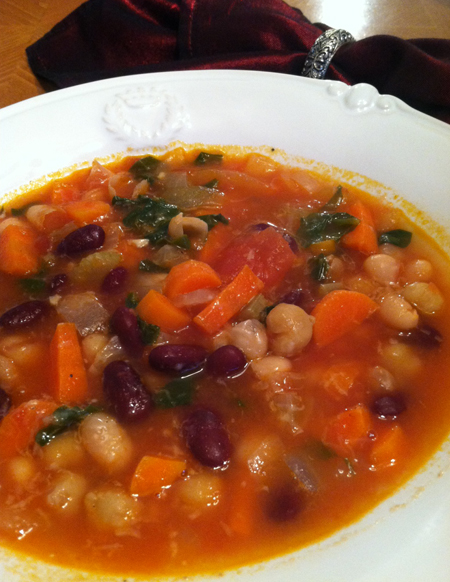 On a rainy Saturday in January, I tend to think of making a soup for lunch.  Today when I looked around my kitchen and pantry and saw the ingredients I had available, minestrone soup immediately came to mind.  When I think of minestrone soup I sometimes think of it as an "everything but the kitchen sink" type of recipe since you can basically add whichever vegetables you have/prefer.  A bowl of this hearty soup will usually fill me up and if not, I simply toast a few pieces of Italian bread and spread some garlic and olive oil – Voilà, lunch is served!
I also realized today that I may take it for granted when I tell readers of this blog they can add any kind of vegetables to this soup.  So here is a list of possible choices:
onions
garlic
carrots
celery
potatoes
sweet potatoes
cannelini beans
red kidney beans
chick peas
spinach
zucchini
parmigiana cheese
tomatoes (canned)
green beans
pasta (preferably a smaller pasta such as elbow or d'italini)
That's a lot of choices, right?  The most important ingredients to have are the onions, carrots, celery, potatoes, tomatoes and one kind of beans.  If you have any of the additional ingredients, even better!  This soup keeps getting more delicious the more you add to it so clean out that refrigerator and pantry and prepare to say yum!

Minestrone Soup
Prep time:
Cook time:
Total time:
Ingredients
2 tablespoons extra-virgin olive oil
1 large onion, diced
4 cloves garlic, minced
2 stalks celery, diced
2 large carrot, diced
1 teaspoon dried oregano
1 teaspoon dried basil
1 28-ounce can tomatoes (diced or whole peeled, pureed)
6 cups low-sodium chicken broth
1 15-ounce can low-sodium kidney beans, drained and rinsed
1 19-ouce can cannelini beans
1 15-ouce can red kidney beans
1 cup elbow pasta (or any small pasta)
⅓ cup finely grated parmigiana cheese
Salt & pepper to taste
Instructions
Heat the olive oil in a large pot over medium-high heat.
Add the onion and cook until translucent, about 4 minutes.
Add the garlic and cook 30 seconds.
Add the celery and carrot and cook until they begin to soften, about 5 minutes.
Stir in the green beans, dried oregano and basil, salt, and pepper to taste; cook 3 more minutes.
Add the tomatoes and the chicken broth to the pot and bring to a boil. Reduce the heat to medium low and simmer 10 minutes.
Stir in all of the beans and cook until the vegetables are tender, about 10 minutes.
If soup is too watery you can add a tablespoon of tomato paste.
Ladle into bowls and top with the parmigiana cheese.
Enjoy!
Notes
If you buy boxed chicken broth it usually comes as a four cup size. If you'd rather not have two left over cups it is ok to use one box of broth and two cups of water.