Escarole & Bean Soup
Posted On January 10, 2013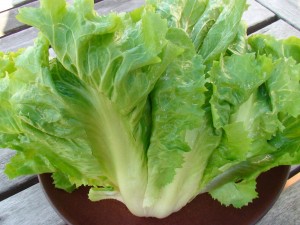 Happy New Year! It's been a busy couple of months and cooking dinner has had to be only three things: delicious, fast and healthy.  Easy enough, right?  Well, believe it or not it really can be when you enjoy eating fresh vegetables and cannellini beans as much as I do.
One of my favorite dishes because of its simplicity is escarole and bean soup.  Whenever I tell people I made escarole and bean soup they either says, "What is that?" or "How do you make that, I love it!!"  You can usually find escarole in the vegetable section of your local grocery store (it looks a lot like a small head of romaine lettuce) or in a vegetable market.   Make sure to wash it thoroughly and chop it before cooking, as once it is cooked it is somewhat difficult to cut while eating.
This soup is perfect throughout the year and I think it tastes better the second day for leftovers.  Of course, that is if there are any leftovers…..  =)
I wish you ladles and ladles of yum in 2013!!
Nicole

Prep time:
Cook time:
Total time:
Ingredients
2 Tbs olive oil
3 cloves of chopped garlic
1 bunch escarole, chopped
4 cups low sodium chicken broth (I use Greenway organic)
2 (15-ounce) cans cannellini beans, drained and rinsed
Salt & pepper to taste
Parmigiana cheese
Instructions
Heat the olive oil in a large pot over medium heat.
Add the garlic and saute until fragrant, about 30 seconds (don't let it brown).
Add the cleaned and chopped escarole and saute until wilted, about five minutes.
Add the chicken broth and beans.
Cover and simmer until the beans are fully cooked, 10-15 minutes.
Season to taste with salt and pepper.
Ladle into bowls and sprinkle with parmigiana cheese.
Notes
You can drizzle a teaspoon of additional olive oil over each bowl before serving. I like to served this soup with a few slices of toasted bread.