Butternut Squash Risotto
Posted On October 29, 2012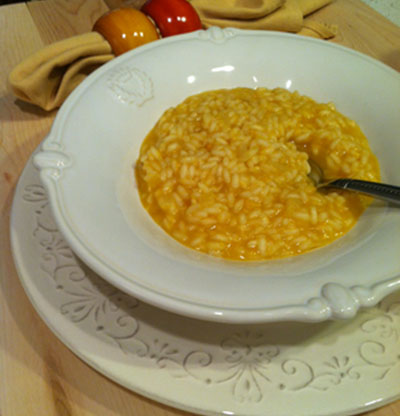 October is a beautiful time of year here in New York and a delicious way to embrace the season is by making butternut squash risotto.  So many people I know get excited when they read butternut squash risotto listed on restaurant menus, but they all seem to think that it is a difficult dish to prepare.  However, once you have the basic steps down, you can actually make all different kinds of risotto within 20-30 minutes.  Does that sound difficult?
So, the next time you are it the grocery store pick up a butternut squash, some Arborio rice and a bottle of white wine (for the risotto and to enjoy during the stirring process ;) and then enjoy the yummy result!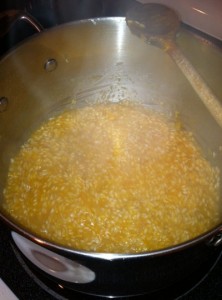 Here is what the risotto looks like right after you add each of the ladles of broth, while stirring.
Prep time:
Cook time:
Total time:
Ingredients
1 lb. cubed butternut squash (about a half an averaged size squash)
¼ cup olive oil
1 small onion, chopped
1 lb. Arborio rice
1 cup dry white wine
4 cups warm low sodium chicken stock
1 cup water (optional)
¼ cup grated Parmigiana cheese
salt and ground black pepper to taste
Instructions
Peel the squash and dice into half inch cubes.
Place squash cubes into a steamer basket and steam until the squash is tender (10-15 minutes).
While the squash is steaming, bring the stock (and water) to a gentle simmer in a saucepan and maintain over low heat.
Mash the squash with a fork (or potato masher).
In a large, heavy saucepan, heat the oil over medium heat.
Add the onion and saute until softened and translucent, about 4-5 minutes.
Add the Arborio rice and stir until the grains are well coated and have white dots in the center, about 3 minutes.
Add the white wine and stir constantly until the wine has evaporated.
Using a ladle, add 1 ladle of the stock to the rice and begin stirring continually until the stock is almost completely absorbed.
Stir in the mashed butternut squash and add another ladle of stock, stirring continually.
Wait until the stock is almost completely absorbed before adding the next ladle of stock.
Do this until you reach the last ladle.
Pour in the last ladle and give your risotto a few quick stirs and remove from heat.
Stir in salt and pepper (optional)
Pour into bowls and sprinkle with parmigiana cheese and/or a pinch of paprika for color.
Notes
DO NOT add all of the stock at once or walk away from this dish on the stove! Set aside 15-20 minutes and stir each ladle until it is absorbed. A lot of people use butter in their risotto but it really isn't necessary. You can add 1-2 tablespoons of butter at the end for a creamier consistency but I don't like it =) I make it without the salt and pepper and I don't think it needs it. I love the color the paprika adds!
I used the following products in this recipe: