Pignoli Cookies, Yum!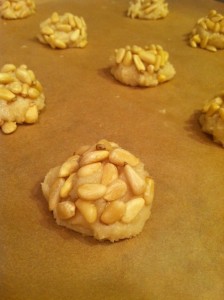 As soon as I start to make pignoli cookies I start to smile just from the scent of the almond paste!  You no longer have to go to an Italian bakery to enjoy these little treats.  These cookies take time to prepare so I don't suggest making them if you are in a rush.  The more patience you have, the better they will turn out.  This recipe is the product of many adjustments and yet I am still not sure it is done –  so let me know what you think!
A few tips:
1) If you make the dough and it just doesn't seem "right" – refrigerate it for approximately 15 minutes and it will harden enough to hold form on the cookie sheet.
2) Once the dough is on the cookie sheet I first sprinkled the pignoli nuts over the dough and then gently press them in, covering most of the visible cookie.  There is no need to roll the dough in the pignoli nuts as the bottoms don't need the nuts.
3) If you don't have confectioners sugar, just use all granulated sugar.
4) The downside to making these cookies is their cost – the pignoli nuts and the almond paste are both expensive.  However, if you shop at stores like Sam's Club, BJ's or Costco, buy the pignoli nuts in bulk and you can probably get the almond paste there as well.  In my opinion, they are worth it!!
Can you say YUM?!
Nicole =)

Prep time:
Cook time:
Total time:
Ingredients
2 egg whites, beaten
1 8 oz. can almond paste (SOLO)
½ cup granulated sugar
1 cup confectioners sugar
1¼ cup flour (see note below)
1 cup pignoli nuts (more or less depending on preference)
Instructions
Preheat oven to 325 degrees.
In a food processor, combine 2 egg whites, almond paste and granulated sugar.
Once combined add the confectioners sugar.
Gradually add in the flour and combine until dough comes together.
If dough is not thick enough to handle, refrigerate for 20 minutes.
Line two large cookie sheets with parchment paper.
Spoon approximately 1 inch balls of cookie dough onto cookie sheets leaving plenty of room for cookies to spread.
Sprinkle the tops of each cookie with pignoli nuts and gently press them into the dough.
Bake until cookies begin to turn golden brown, about 20 minutes.
Let cool completely on sheets on wire racks, about 10 minutes.
Notes
The finished cookie should be lightly browned and chewy on the inside. If you want to leave the flour out the mixture it will be watery. Just refrigerate the mixture until it thickens and you will have the same consistency.