Pasta with Fresh Tomatoes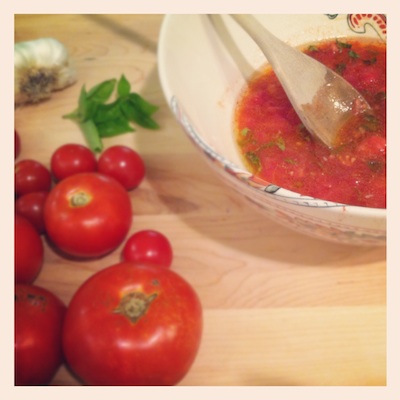 Today's lunch included tomatoes and basil from my garden and I only wish there was a way for you to smell my kitchen right now!
My little gardening project shocked us this year by pumping out endless amounts of tomatoes, zucchini, zucchini blossoms and basil.    It has been tremendous fun to build lunch and dinner dishes based on what grew each day.
Enjoy this quick and simple dish and as always, I wish you ladles of yum!
Nicole

Pasta with Fresh Tomatoes
Prep time:
Cook time:
Total time:
Ingredients
2-3 lbs. ripe tomatoes (preferably fresh from the garden)
⅓ cup extra virgin olive oil
2-3 cloves garlic, crushed
5 fresh basil leaves, chopped
1 tsp sugar
12 oz. spaghetti (or your favorite pasta)
salt and pepper
Freshly grated parmigiana reggiano cheese
Instructions
Bring a large pot of water to a boil over high heat and once the water is boiling, place all of the tomatoes in the pot for 1 minute.
After one minute, drain the water and peel off the tomato skins.
Chop the flesh of the tomatoes and place them into a large serving bowl.
Add the oil, garlic, basil, sugar, salt and pepper and stir until well combined.
Bring the large saucepan of water to a boil once again.
Add a pinch of salt and the pasta and cook until al dente (8-11 minutes depending on which pasta).
Drain well and stir the pasta into the tomato mixture.
Serve immediately and sprinkle with grated cheese.
Enjoy!
Rather than chopping the garlic, I like to use a garlic press to crush the garlic: