Ricotta Gnocchi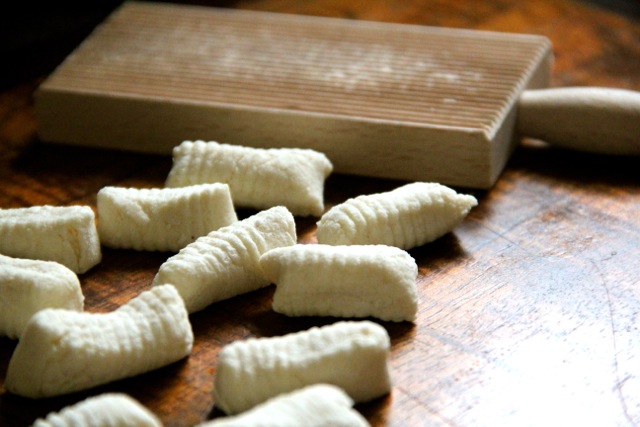 One of my favorite things to do is make pasta.  I love the freedom fresh pasta offers.  Just knowing that I can fill, stuff or create a new variation is so exciting to me!
Gnocchi is a pasta I usually stay away from eating because I am not a fan of feeling completely full after only a few forkfuls of my dinner.  So, when I came across a recipe which used ricotta cheese instead of potatoes, I couldn't wait to give it a try!  Well, the recipe didn't disappoint…to say the least.  Not only did everyone in my family enjoy gathering around the kitchen to help roll out this delicious treat and send it rolling down the backs of forks – we also couldn't believe how "light" tasting the gnocchi tasted.
If you are an gnocchi lover, this recipe is a must try. Buon appetito!

Prep time:
Cook time:
Total time:
Ingredients
1lb ricotta (full fat)
⅓ cup freshly grated Parmigiano-Reggiano cheese
1 large egg, lightly beaten in a small bowl
2 - 2½ cups of all-purpose flour
pinch of salt
Instructions
In a large mixing bowl, stir together the egg, ricotta and Parmigiano-Reggiano cheese. To that, add 1c of flour and pinch of salt. Fold flour in gently until a soft dough forms.
Transfer this mixture to a wooden board and lightly, gradually add the remaining flour until it is no longer sticky. Knead dough 2 to 3 minutes, adding flour if needed, until dough is smooth and just a bit sticky. Do not knead or over mix the dough (this will result in chewy gnocchi).
Cut off a piece of dough, about the size of an orange. Using floured hands and on a lightly floured surface, roll out the piece of dough with back and forth motion into a roll of about ½ to ¾ inch thick.
Cut the roll into ½-1 inches pieces depending on how large your like your gnocchi. If you do not have a ridged wooden surface (as seen in the photo above) to roll your gnocchi over, turn a fork over so that the tines are against the work board to achieve the same outcome (the grooves help hold the sauce).
Starting from the top over the curved area, press each piece of dough with your index finger firmly downward along the length of the tines. The gnocchi will fall to the board.
Repeat this with remaining dough until all of the gnocchi have been formed (call in as many family members as you can find to help!)
Line a large tray with a clean kitchen towel and flour the towel lightly. Arrange the gnocchi on the towel. They can be cooked immediately or kept in the refrigerator for several hours.
Bring a large pot of water to a boil and add 1 tablespoon of salt and the gnocchi. Cook uncovered over high heat until the gnocchi rise to the surface of the water, 1 to 2 minutes.
If you would like to purchase an gnocchi board, here is an inexpensive one.